Counter Display Box
Some smaller items are easy to ignore, and such displays generally choose a counter display box, which takes up less space and is more eye-catching.
The counter display box is a kind of product through which the product in the package can be visually seen. All the boxes that display the goods are called counter display boxes.
The counter display box intuitively displays the goods, satisfies the requirements of consumers in terms of sight, touch, smell, taste, etc., increases the user experience, improves the advertising effect, and can make consumers pay attention.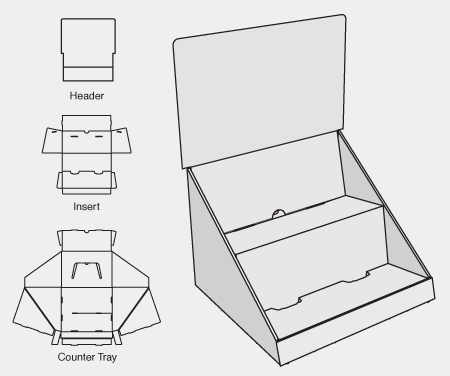 Counter Display Box
Cardboard countertop displays, cardboard floor display, and POP cardboard display stands from the Haojun company are produced with durable corrugated paper that can be designed in any types for different projects. The extra hooks and pockets also can be added when necessary to meet all the requirements. Our PDQ counter display box is ideal for exhibiting phone accessories, toys, hair accessories, skin health products, cosmetics, electronics and so on!
The counter display is a 3D shape that consists of multiple faces, which are moved, replicated, and then surrounded by multiple faces. Each surface obtains a different emotional expression through a combination of different faces of the box. The element of the counter display box surface should be noted for its front, side, top and bottom connections, and the conveyance of packaging information.
The counter display box is due to its attractive appearance and shape, in order to achieve the role of beautifying products and improve product competitiveness. The shapes of the packaged goods determine the layout and shape of the boxes, so many types and styles, are available, such as square, rectangular, cylindrical, shaped carton and more.
Get in Touch with us
Still have Questions
Our Headquarters
Work Time :
8:30-18:00(Beijing time)
FAX :
+86-755-27674596
Business Phone :
86-0755-27674596(Working time)
Email :
info@szhaojun.com
Factory Address :
2nd Floor Building 13, Zhitongda Industrial park, Rentian Community, Fuyong Town, Bao'an District, Shenzhen City 518102 China.